Political Roots
Energy, enthusiasm and follow-through are the principles upon which I base my life, my role as husband and father, and my career as a small business owner. They are also the principles upon which I base my intention to run for the riding of Fredericton West-Hanwell.
I was born on April 11, 1969, and raised in Oromocto. I am the middle child of Anne Marie Duffie and the late William "Bill" Duffie. My father, also born in Oromocto, represented Sunbury County in the New Brunswick Legislature from 1960 to 1970. He served as Minister of Youth and Welfare from 1960 to 1966, and Minister of Natural Resources from 1966 to 1970. From 1986 to 1989 he served as Mayor of Oromocto. So yes, I grew up in a political family. Dinner table conversations were often about politics and how the political process can improve people's lives. My mother and father believed community is strength. That's what I believe, too.
I've been married for 26 years to Amanda (Fevens) Duffie, who was born and raised in Fredericton. Living in New Brunswick, we have two children aged 22 and 25. My wife and I raised our two children to believe that each day is an opportunity to learn, help, play and grow. In my work and through my involvement with community organizations, I have learned that many others in the riding share the same values
Business Endeavours
More than 25 years ago, I began building my company, Terra Consultants, in Fredericton. Terra started as a small IT service centre and grew into a thriving business with computer sales and service, and a large-format graphics division. Information technology was our business; building positive relationships was our specialty
In 2002, I opened a second business, the Halifax Mac Store, in Halifax. At the peak, I employed 23 full-time staff. As both businesses evolved, I paid close attention to day-to-day operations.
Eventually, I downsized so I could focus my attention on new opportunities. During this period, I'm proud to have found employment for my former employees. The decision to refocus my life was a good one. I have more time to devote to my family, more time to pursue new business ventures and more time to spend outdoors. It also allows me to become more involved in my community, while still maintaining a connection to the IT industry.
Located in Jewetts Mills, my company is a member of the Mactaquac County Chamber of Commerce and a long-standing member, since 1998, of the Canadian Federation of Independent Business (CFIB).
Community Oriented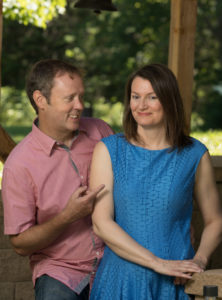 I am on the Board of the Local Service District of Bright and have been the secretary for the Sno-Drifters Snowmobile Club Inc. (Club 10). I'm a member of both the Friends of Mactaquac Lake and Friends of Mactaquac Park. I enjoy attending events put on by the Keswick Ridge Historical Society and look forward to "Music Nights" put on by various groups in our community. I also volunteer with Meals on Wheels. I'm grateful for the work these organizations do and I help in any way I can
Every chance I get, I'm outside using my chainsaw, tractor, portable sawmill, or snowmobiling and boating. I enjoy learning how to operate new equipment and have even done some welding. Keeping up with new technologies is important to me. Having a 3D printer and virtual reality gear allows me to keep pace with current trends. For all the things I do, I carefully research the tools and equipment that may be required.
Recently, though, my father's passion for politics has surfaced in me. Being involved in local politics, as I have been for a while now, shows me how important the political process is to people at the local level.
In the Fredericton West-Hanwell riding, I often work face to face with constituents. I continue to make contact with and lobby for residents and businesses in the riding and intend to continue. I like helping people find solutions to their issues and concerns.
Positive Steps Forward
I have built and run two successful businesses in two separate provinces. I embrace learning new skills and new technology. I have worked with farmers, entrepreneurs, and local representatives; their ingenuity has educated and inspired me. I thoroughly enjoy working with people and value their insights, and I enjoy celebrating their successes with them. When one succeeds, we all succeed.
As the representative for Fredericton West-Hanwell, I will seek input from constituents and make decisions based on facts that support our riding's interests. And I will fight for those interests. I understand the challenges small business people face, including finding and retaining skilled workers, dealing with government red tape, and maintaining a robust and sustainable company with the opportunity for growth.
I will fight for jobs; and for our environment, including "green" jobs. We have lots of people with talent, skill and drive in this riding, and through positive steps forward like the Connect to Innovate program — we can continue to discover new opportunities and challenges for them.
Our riding members have heart and spirit, ingenuity and strength. I understand this, and I live this. With your support, I can be a strong voice for New Brunswick.
Thank you,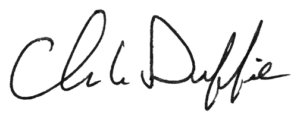 Chris Duffie